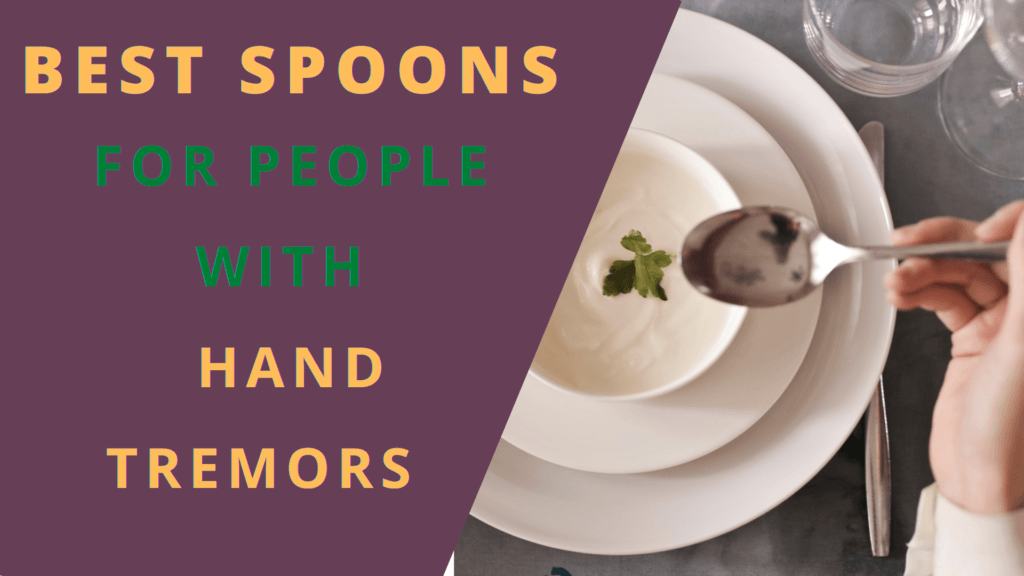 Hand tremors can make it difficult for people to eat with a normal spoon. They often spill the food and this is not only problematic but also embarrassing, especially in gatherings. To avoid this problem, they are usually advised to eat with adaptive spoons.
There are plenty of spoons available on the market. But most often, it becomes a tricky decision to choose the most useful one. We did some research and compiled a list of the following 8 spoons available online. All of these spoons are specifically designed for people suffering from hand tremors.
Although using these spoons may not completely remove the tremor effects, they come with some good features that will certainly help a person to eat the meal with more confidence. These spoons could also be useful for those who have weak hands or weak wrists and not enough grip to hold regular spoons.
So have a look at the list below and choose a spoon that suits you or your loved ones suffering from hand tremor.
SPOON IMAGE

SPOON SPECIFICATION

PRICE

GYENNO Steady Spoon


– Innovative design that reduces 85% of shaking.
– Includes a stabilizing handle, a spoon attachment, a charging box, and charging cable.
– Total weight 130g, easy to hold and to prevent from slippery.
– Fully charged battery can run three meals a day.
– Switch on and off automatically.
– Easily cleanable. Wash with care.
Check Here


EliSpoon No Spill Spoon
– Innovative design keeps the spoon bowl level, regardless of the arm or hand position.
– Made from high-qulity stainless steel, plastic materials.
– The handle is comfortable to grip and rotates 360 degrees.
– Features a stopper that restrains the angle.
– Lightweight and strong, dishwasher safe.
– Hypo-allergenic, and FDA approved.
– Diamtere: 7.9 inches long, 3.7 inches wide. Weight: 0.15 lbs.


Check Here

Finger Loop Teaspoon
– The spoon designed with a loop on the handle that helps the user to properly
position the utensil in their hand.
– Lightweight, stainless steel spoon with an adapted handle.
– Made from stainless steel with vinyl coating.
– Available for Right hand or Left hand users.
– Overall diameter: length 6 inches; bowl measures 2 inches long and 1 inch wide.
– Dishwasher safe.

Check Here

BIHIKI Eating Aids,360° Rotating Swivel Fork Spoon


– Features 360°rotation, provides comfortable and soft grip for more
convenient food position.
– Made of food-grade high-quality stainless steel, non-toxic, no odor plastic materials.
– Comes with an adjustable strap that allows free regulation of tightness, easy to wear.
-Carries a weight of about 9.59 ounces.
– Dishwasher safe.
Check Here

Sammons Preston Stainless Steel Bendable Spoon


– The spoon features handles that provide a comfortable and soft grip.
– The handle is crafted with non-latex blue thermoplastic rubber and polypropylene.
– Made with bendable high-quality stainless steel.
– Product dimension: 9.21 x 3.5 x 1.18 inches; 2.4 Ounces.
– Dishwasher safe up to 212º.
– Size and style of a teaspoon and fork.
– Available in blue color.
Check Here


Sammons Preston – 49831 Weighted Soup Spoon
– Features deep bowl with 1″ thick handle.
– Handle has plastic ridges for comfortable and good grips.
– Made from BPA-free, phthalates-free, and latex-free materials.
– Dishwasher safe up to 180º.
– Spoon weight is about 2.38 ounces.


Check Here


Sammons Preston Adaptive Soup Spoon
– Spoon comes with a special swivel design that keeps food in the bowl.
– Crafted with stainless steel, ca swivel when turned at any angle.
– Handle is made with BPA and phthalates, non-latex reusable plastic spork materials.
– Dishwasher safe up to 180º.
– Length is about 6.5″ long.


Check Here


Soft Foam Built-Up Handle Offset Spoon
– Suits for right-handed spoon person.
– Made from high quality stainless steel.
– Features removable 1.25" diameter black, built-up, closed-cell foam handle.
– Dishwasher safe up to 180 degrees. The foam handle must be ashed by hand.
– Comes with textured, soft handle that helps provide more control of the spoon.
– The handle is about 5/8" in diameter.


Check Here