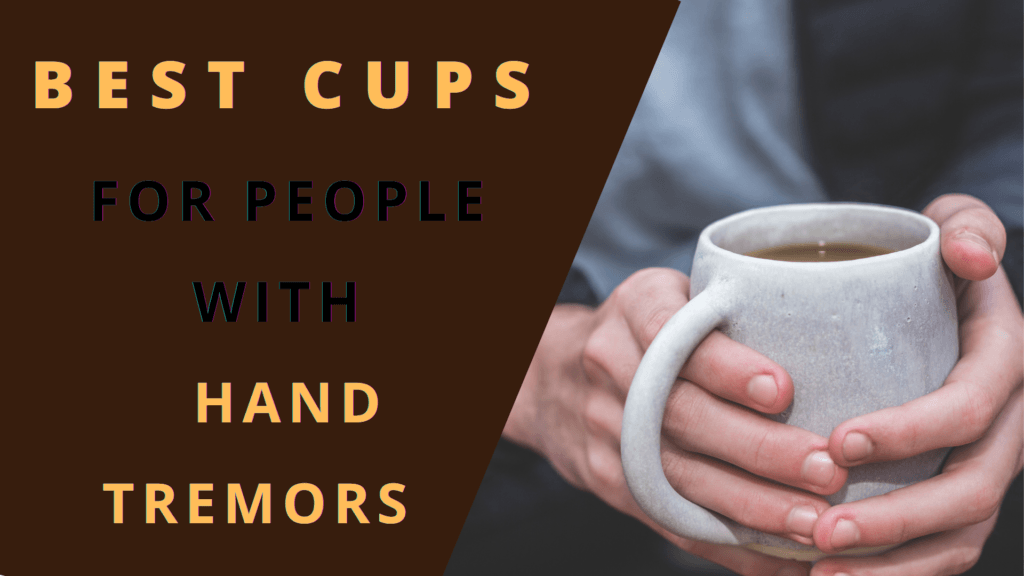 People with hand tremor often have a drinking problem. They find it very hard to drink water, coffee, or tea with normal cups. Because of their shaky hands, the liquid doesn't remain in the normal cups and as a result, they spill the liquid even before reaching the mouth. It's not only stressful for them but also embarrassing in gatherings with friends and family. To avoid this problem, they are often advised to use adaptive cups.
Here, we have compiled a list of the 5 best drinking cups for those with hand tremor. Although these cups will not treat the tremor, they will certainly help to improve the drinking ability of the user. Most of these cups are easily available on Amazon. They come with some good features that avoid spilling and allow the user to enjoy drinking tea, water, or any other beverages with friends and family.
So have a look at the list below and choose the cup that suits you or you loved ones suffering from hand tremor.
1. Rehabilitation Weighted Insulated Mug
Specifications
Crafted with durable plastic and well-insulated design.
Capacity of accommodating up to 20 ounces of liquid.
8 ounces of additional weight; measures 5.5" tall with lid x 3.25" wide.
Ideal for both hot and cold beverages.
Comes with a tumbler lid that fits tightly and helps prevent spilling.
Dishwasher safe quality.
---
2. HealthGoodsIn-Two Handled Ceramic Mug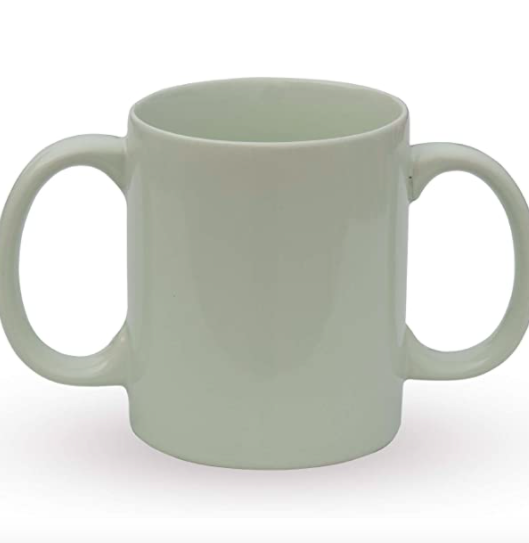 Specifications
Comes with a dual handle design.
Made with sturdy ceramic material, free of BPAs and latex.
Ideal for serving both hot and cold beverages.
Holds liquid of 15.2 ounces.
Dishwasher and microwave safe.
Available in different colors.
---
3. HandSteady Rotatable Handle Cup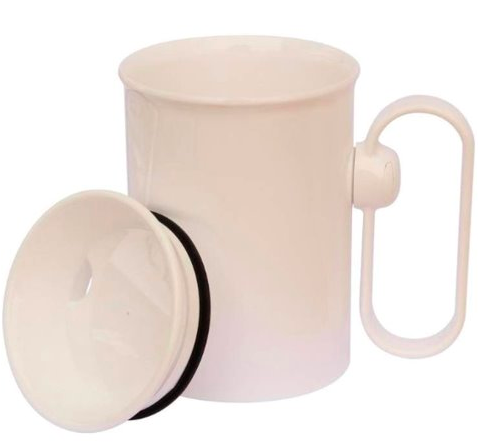 Specifications
Features a unique rotatable 360 degrees design that allows the user to hold the handle in many stable and comfortable positions.
Made from polypropylene, BPA-free materials.
Slip-lid prevents the liquid from spilling and keeps drinks hotter.
The handle opening measures 3.25 inches long.
Light-weighted and travel-friendly.
Microwave and dishwasher safe.
---
4. Adaptive Small Sippy Cup Two Handle Cup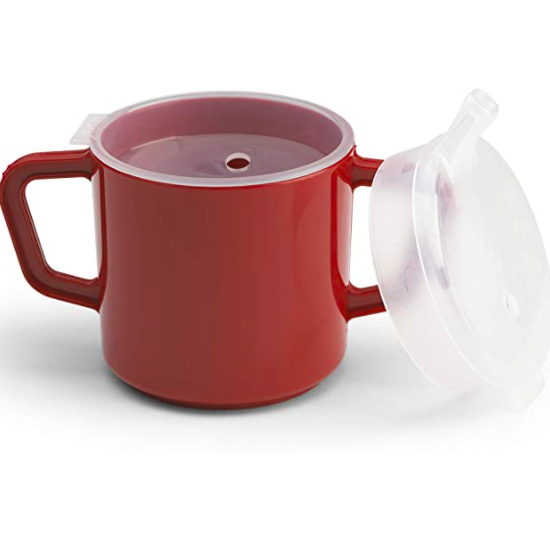 Specifications
The cup features two handles, make it easy to hold.
Comes with two specialty lids: spout lid and anti-splash lid.
Lids can be used with a straw and allow the flow of liquid to be regulated.
Holding capacity of about 8 ounces of warm or cold liquid.
Crafted with latex and BPA-free materials.
Dishwasher and microwave safe.
---
5. KIKIGOAL Convalescent Drinking Cup

Specifications
Made from 304 Stainless Steel+food grade PP and silicone, eco-friendly, non-toxic materials.
Comes with a rotatable spout lid, straw, and suction nozzle.
Holding capacity of 350 mL liquid.
Heat-resistance temperature from 20 to 120℃.
Features a double-wall vacuum design that keeps water warm longer.
Dishwasher safe.
---