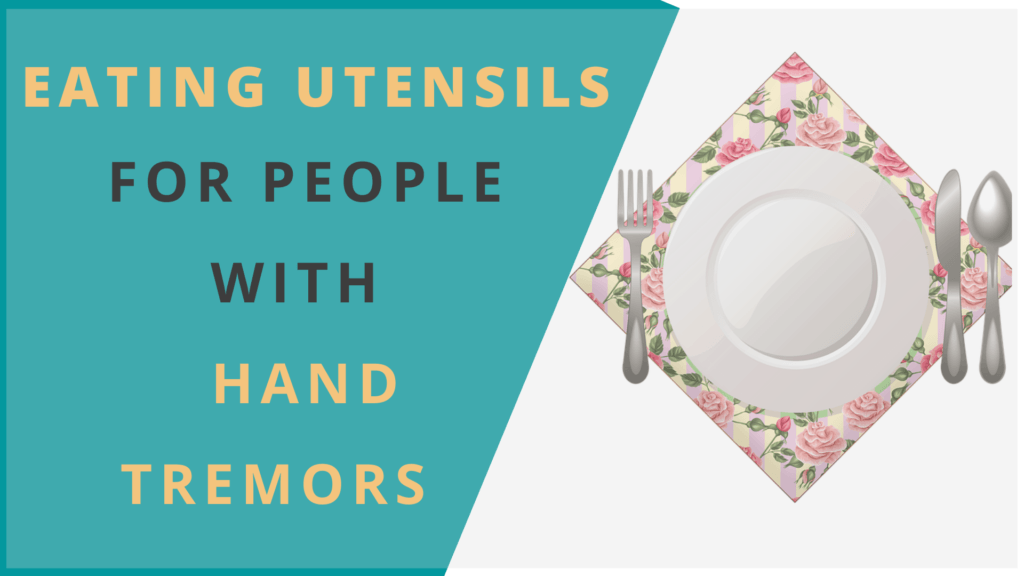 Hand tremors can make it difficult for people to perform simple tasks. For example, eating with normal utensils can be a nightmare. They often spilled the food and this is not only problematic but also embarrassing, especially in a gathering. This's why they are advised to use adaptive utensils.
There are plenty of utensil sets available on the market. But usually, it's hard to choose the right one. We did some research and compiled a list of the following 10 utensil sets available on Amazon. All of the utensils are specifically designed for people suffering from hand tremors.
Although using these utensils may not completely reduce the tremor effects, they come with some good features that will certainly help a person to eat the meal with more confidence. These utensils could also be useful for those who have weak hands or weak wrists and not enough grip to hold regular utensils.
Each of these utensils is crafted with high-quality stainless steel, very durable, and don't break easily. They are very handy, easy to wash with hands by using soup or any dishwashing detergent. They are also dishwasher safe.
So have a look at the list below and choose a utensils set that suits you or your loved ones suffering from hand tremor.
Product Image

Product Features

Price

Pulse Brands Adaptive Utensils
– Includes a fork, a table knife, and a pair of spoons.
– A lip at the base of the handle.
– Easily cleanable by a dishwasher machine or with hand.
– Made with high quality stainless steel.



Click Here




Special Supplies Adaptive Utensils
– Includes 1 table knife, 1 fork, 1 teaspoon, and 1 soup spoon.
– Wide and heavier than normal utensils.
– The spoon has a deeper bowl.
– Crafted with a high-quality stainless steel.
– Amazon best seller in daily living utensils and holders.




Click Here






Kinsman Classic Bendable Utensils
– Includes a fork, a knife, a teaspoon, and a soup spoon.
– Large and non-slip handles.
– Forks and spoons can easily be twisted to any angle.
– Made from good quality stainless steel.
– All items of the set are dishwasher safe.



Click Here






Special Supplies Adaptive Utensils
– Includes fork, knife, curved knife, dinner spoon, and soup spoon.
– Wider with a non-weighted design.
– Wider handle to improve dexterity and control.
– Made with dishwasher-safe stainless steel.
– Available in different colors.




Click Here





BunMo Weighted Utensils
– Includes a fork, knife, soup spoon, and table spoon.
– Each utensil weighs a minimum of 7 oz per piece.
– Made from the highest quality rustproof stainless steel.
– Looks like regular premium silverware.
– Comes with a high-quality gift box.




Click Here





Adaptive Eating Utensils by Celley
– Includes 1 Fork, 1 Knife, 1 Teaspoon & 1 Table Spoon.
– Each utensil weighs around 3 ounces.
– Each equipped with weight support grip handles.
– Made with durable, high-quality stainless steel.
– All items are dishwasher safe.

Click Here
Vive Weighted Utensils Set
– Includes a serrated table knife, a fork, tablespoon and soup spoon.
– Each piece is weighted between 7.4 ounces to 7.9 ounces.
– Constructed with premium stainless steel.
– Ergonomically designed to fit comfortably in the hand.
– All items are dishwasher safe.

Click Here

Blue Jay Make Eating Easier Big Grip Utensil
– Includes a fork, tablespoon, rocker knife, and soup spoon.
– Each has a 1.5 wide built-up rubber handle.
– Crafted from stainless steel, dishwasher safe.
– Comfortable and safe for the user to hold.
– Fork and spoons can be twisted to any angle.


Click Here

Weighted Utensils Gift by Kebado
– Includes 4-pack silverware Weighted Utensils.
– Also includes 4 weighted pens and one wooden book page holder.
– Crafted with high-quality stainless steel, it lasts longer.
– All items of utensils set can easily be cleaned


Click Here

Weighted 7 oz Eating Utensils by Celley
– Includes fork, knife, soup spoon, and table spoon.
– Provides a comfortable grip and discreet appearance.
– Each item weighs about 7 oz.
– Made with food-grade stainless steel.
– All items are dishwasher safe.


Click Here